School Days – A Proper Hanging – Cadets Cannot Smoke
Aunt Patsy Passes – Orion the Newspaperman

Sam had four different schoolteachers in Hannibal: Mrs. Horr, Miss Newcomb, J.D. Dawson, and William O. Cross [Wecter 211]. Wecter concludes that the chance find of a page about Joan of Arc seemed to stimulate Sam to learn more than all these teachers put together [211]. Paine says that Sam learned a little German by ear from the village shoemaker, briefly tackled Latin, and about five years later was teaching himself French. Paine also writes that Sam claimed to have read the Bible through "before I was 15 years old" [MTB 1281].

Music, often in church, was part of Sam's early years. Here are two inserts of an 1869 Song Book, annotated some 20 years later, by Clemens. Many of these he heard in 1850. Designated as 1850 are A Life on the Ocean Wave, A Wet Sheet and a Flowing Sea, Bell Brandon, By the Blue Alsatian Mountains, and Larboard Watch: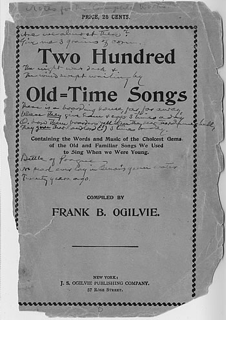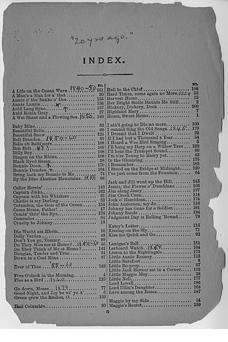 Link to Epoch, Episode and Chapter