His visit to Washington, D.C., probably lasted only a long weekend, from 16 through 20 February (or possibly through Washington's birthday) 1854. He himself called his stay a "flying trip," and Paine said that it "was comparatively brief, and he did not work there" 
Editorial narrative following 17 and 18 February 1854 to the Muscatine Journal . 
He boarded a night train in Philadelphia and arrived at the Baltimore and Ohio station in Washington on the morning of Thursday, February 16, 1854.1 Just north of the Senate wing of the Capitol, the Italianate building was not far from where Union Station, designed by Daniel Burnham and completed in 1907, sits today.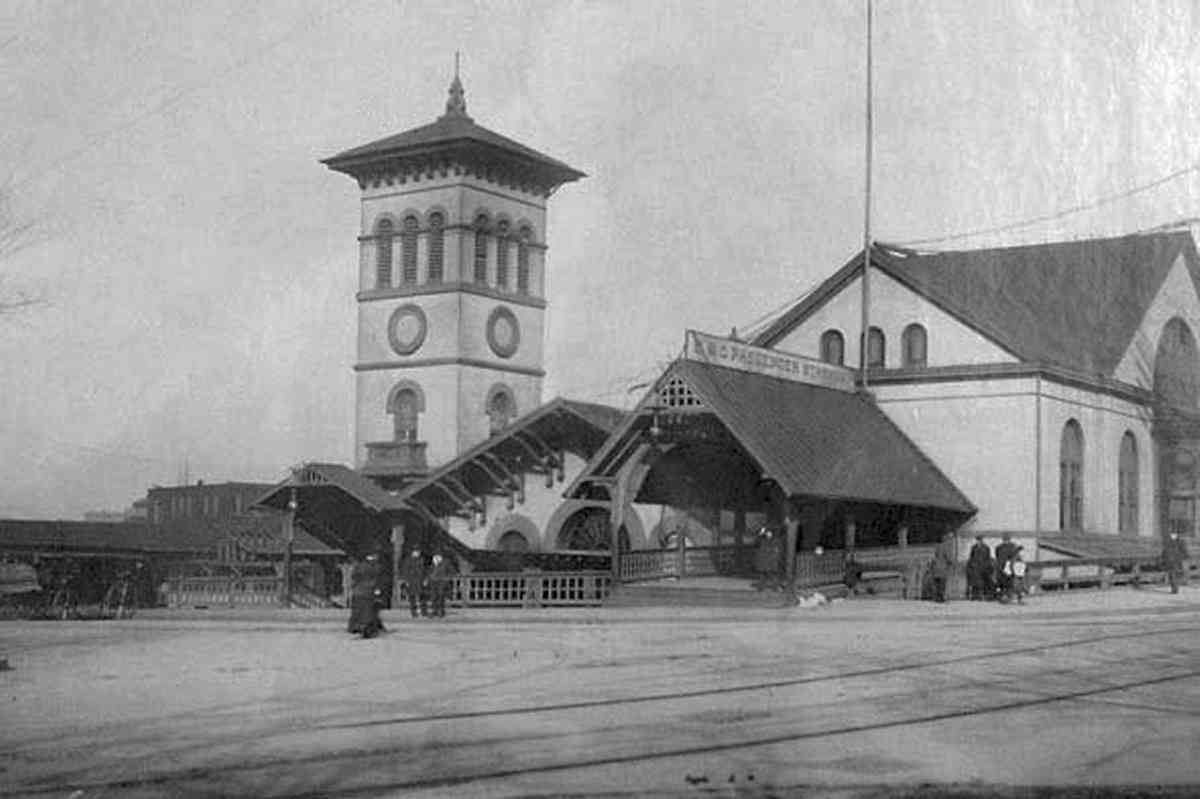 [A view of the New Jersey Avenue Station, Washington, D.C. of the Baltimore and Ohio Railroad, in the late 1800s.]
Having heard enough Senate oratory, Sam trudged through the mud over to the House. He was not moved by the "moving" speeches he heard, as the eighteen-year-old wrote for the Muscatine Journal—a half a dozen representatives appeared to have "something weighing on [their minds] on which the salvation of the Republic depended." Anxious to relieve themselves of this weighty responsibility, they yelled, "Mr. Chairman, Mr. Chairman," their pleas echoing throughout the chamber.15 Fourteen years later, Mark Twain remembered "perfectly well" the House debate on the Kansas-Nebraska Act, recalling that the members "seemed to be a mob of empty headed whipper snappers that had only come to Congress to make incessant motions, propose eternal amendments, and rise to everlasting points of order." He wrote, "They glanced at the galleries oftener than they looked at the Speaker, they put their feet on their desks as if they were in a beer mill; they made more racket than a rookery, and let on to know more than any body of men ever did know or ever could know by any possibility whatsoever."
From Mark Twain in Washington D.C.
Alighting from a railcar at the Italianate-styled Baltimore and Ohio Railroad Passenger Depot, which had just opened months before at the corner of New Jersey Avenue and C Street NW, Clemens hastened to take a room in one of the avenue's hotels. On the morning of February 17, the eighteen-year-old hit the city streets for the first time, walking through a snowstorm. "I started toward the capitol, but there being no sidewalk, I sank ankle deep in mud and snow at every step. When at last I reached the capitol, I found that Congress did not sit till 11 o'clock; so I thought I would stroll around the city for an hour or two," he reported to his brother Orion's newspaper, the Muscatine Journal. Samuel Clemens, circa 1851.