Tuesday, 23 August. 7:00 a.m., Sam departed Buffalo and traveled to Albany via Rochester and Syracuse on the New York Central. Erastus Corning had created the New York Central Railroad Company, from 10 railroad companies between Buffalo and Albany, just three months previous to Sam's trip.
7:00 p.m., en route via the Hudson River to New York City on the steamer Isaac Newton.
Low Pressure Steamboat "Isaac Newton." Built in 1846, the steamboat was larger than any previous river steamer. The vessel consumed four tons of coal per hour, a startling amount for the time. The paddle wheels were 39 feet in diameter and the ship was 338 feet long. The steamer was rebuilt in 1855, extending the length to 405 feet. The "Isaac Newton" was unsurpassed in its size and the splendor of its interior furnishings. As was often the case with steamers, the ship's starboard boiler exploded and on December 5, 1863, when opposite Fort Lee, the liner burned to the water's edge injuring seventeen people and killing nine.
See Currier and Ives painting: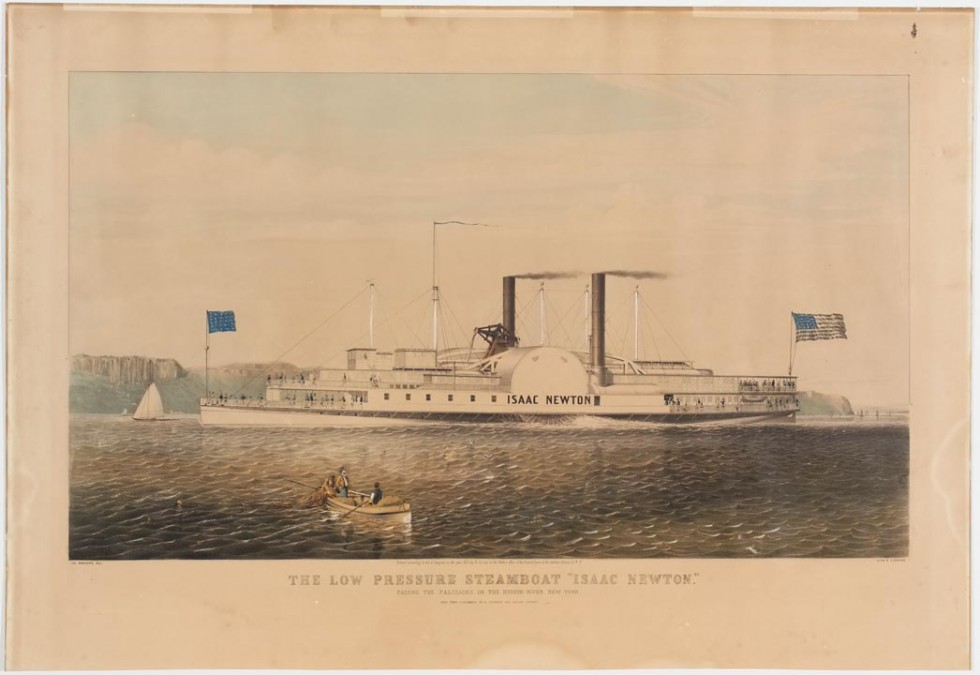 Day 6: Wednesday, 24 August. 5:00 a.m., arrives in New York City aboard the steamer Isaac Newton.