January [1905]– In N.Y.C. Sam spent the last part of December and all of January in bed, recovering from another case of bronchitis, followed by attacks of gout in his feet [Jan. 8 Lyon to Whitmore; Jan. 25 to Crane].
Sam wrote to the International Plasmon Co., London
The only needful thing is to get Plasmon into the stomach—dissolved, or in clods, or petrified or any way, so it gets there. I had an eight years' dispute with dyspepsia, but when visiting England years since my Doctor ordered Plasmon to be added to my other food, and the enemy has not troubled me since [MTP].
Sam's essay "Concerning Copyright" first ran in the North American Review, p. 1-8 [Budd, Collected 2: 1009].
The only Mark Twain notebook still in private hands was auctioned by Sotheby's from Nick Karanovich's collection on June 19, 2003. The description:
A pocket-size notebook for 1905 with Clemens's autograph manuscript notes, memos, appointments, addresses, etc., written in ink on some 14 pages; with many other pages containing notes and other items by Albert Bigelow Paine, the whole notebook ("The Excelsior Diary 1905") containing about 61 leaves (2 x 4? in.; 51 x 105 mm), original maroon leather, neatly rebacked, wear to covers, one leaf (for March 26-31) torn out. The only Mark Twain notebook still in private hands. On the first page (for January 1-2) Clemens has listed thoughts and things to do. All are crossed through except for a one-line memo and the thought "The lack of money is the root of all evil." On the third page (for January 7-9) Clemens has written: "60 years ago, optimist & fool were not synonymous terms. This is a greater change than that wrought by science & invention. It is the mightiest change that was ever wrought in the world in any 60 years since creation." [Note: MTP now refers to this "excelsior" NB from the Karanovich sale, as NB47A; See entries, Jan. 1, 2, and 7 to 9].
Sometime during January Joe and Harmony Twichell visited for one night [Feb. 6 Lyon to Whitmore].
Outing Magazine published Clifton Johnson's article, "Mark Twain's Country," p. 433-40. Tenney: "On a visit to Hannibal and Florida, Missouri; illustrated with several photographs, including one of the front of the home of Tom Blankenship ('when he left home, it was to go to the penitentiary'). One old acquaintance called MT 'the most overrated man in America…. As a boy, Sam was just like other boys, except he might have been a little slower. He was considered blamed dull, to tell you the truth.' Another acquaintance remembered him as solitary, not interested in hunting and fishing with the other boys, although fond of exploring the cave. Both remembered his slow, drawling speech" [41].
Laurence Hutton's "The Literary Life," part V ran in The Critic for January. Beginning on p. 43, and on p. 53 Hutton's ill-gotten story about "an especially bound copy of 'The Prince and the Pauper,' with a peculiarly affectionate Twain inscription. See also picture of Helen Keller and her dog, "Phiz" on p. 44 [Google books online]. See insert.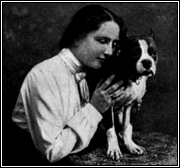 Clemens inscribed his photograph to Dr. Edward Quintard: "To Edward Quintard, greeting & all good wishes./ One of the most striking differences between a cat & a lie is, that a cat has only nine lives.—Pudd'nhead Wilson's Calendar / Truly yours, Mark Twain. Jan. 1905" [MTP; Frogtown Books # 43101, AbeBooks Oct. 11, 2008].
Link to Epoch, Episode and Chapter