The Trip from Milan to Bellagio
We left Milan by rail. The Cathedral six or seven miles behind us; vast, dreamy, bluish, snow-clad mountains twenty miles in front of us,—these were the accented points in the scenery. The more immediate scenery consisted of fields and farm-houses outside the car and a monster-headed dwarf and a moustached woman inside it. These latter were not show-people. Alas, deformity and female beards are too common in Italy to attract attention. We passed through a range of wild, picturesque hills, steep, wooded, cone-shaped, with rugged crags projecting here and there, and with dwellings and ruinous castles perched away up toward the drifting clouds. We lunched at the curious old town of Como, at the foot of the lake, and then took the small steamer and had an afternoon's pleasure excursion to this place,—Bellaggio.
Fumigation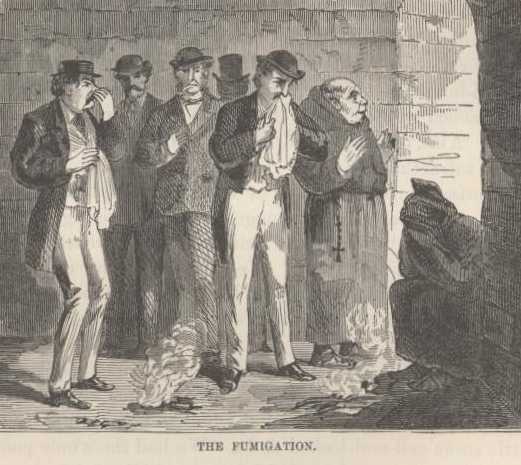 When we walked ashore, a party of policemen (people whose cocked hats and showy uniforms would shame the finest uniform in the military service of the United States,) put us into a little stone cell and locked us in. We had the whole passenger list for company, but their room would have been preferable, for there was no light, there were no windows, no ventilation. It was close and hot. We were much crowded. It was the Black Hole of Calcutta on a small scale. Presently a smoke rose about our feet—a smoke that smelled of all the dead things of earth, of all the putrefaction and corruption imaginable. We were there five minutes, and when we got out it was hard to tell which of us carried the vilest fragrance. These miserable outcasts called that "fumigating" us, and the term was a tame one indeed. They fumigated us to guard themselves against the cholera, though we hailed from no infected port. We had left the cholera far behind us all the time. However, they must keep epidemics away somehow or other, and fumigation is cheaper than soap. They must either wash themselves or fumigate other people. Some of the lower classes had rather die than wash, but the fumigation of strangers causes them no pangs. They need no fumigation themselves. Their habits make it unnecessary. They carry their preventive with them; they sweat and fumigate all the day long. I trust I am a humble and a consistent Christian. I try to do what is right. I know it is my duty to "pray for them that despitefully use me;" and therefore, hard as it is, I shall still try to pray for these fumigating, maccaroni-stuffing organ-grinders.
Lake Como
I did not like it yesterday. I thought Lake Tahoe was much finer. I have to confess now, however, that my judgment erred somewhat, though not extravagantly. I always had an idea that Como was a vast basin of water, like Tahoe, shut in by great mountains. Well, the border of huge mountains is here, but the lake itself is not a basin. It is as crooked as any brook, and only from one-quarter to two-thirds as wide as the Mississippi. There is not a yard of low ground on either side of it—nothing but endless chains of mountains that spring abruptly from the water's edge and tower to altitudes varying from a thousand to two thousand feet. Their craggy sides are clothed with vegetation, and white specks of houses peep out from the luxuriant foliage everywhere; they are even perched upon jutting and picturesque pinnacles a thousand feet above your head. Again, for miles along the shores, handsome country seats, surrounded by gardens and groves, sit fairly in the water, sometimes in nooks carved by Nature out of the vine-hung precipices, and with no ingress or egress save by boats. Some have great broad stone staircases leading down to the water, with heavy stone balustrades ornamented with statuary and fancifully adorned with creeping vines and bright-colored flowers—for all the world like a drop curtain in a theatre, and lacking nothing but long-waisted, high-heeled women and plumed gallants in silken tights coming down to go serenading in the splendid gondola in waiting.
Steamer to Leco
We voyaged by steamer down the Lago di Lecco, through wild mountain scenery, and by hamlets and villas, and disembarked at the town of Lecco.