September 26 Thursday – In Tuxedo Park, N.Y. Sam wrote to Dorothy Quick.
Dorothy dear, I hear that you are at school, & that you greatly like it& are very busy—all of which is good to hear, & naturally is a great pleasure & comfort to your mother.
I am back from Jamestown & am glad. Still, we had reasonable weather & a swift voyage & altogether a good time. Miss Lyon & her mother went down on another boat & enjoyed the trip.
Meantime the cricket has joined the union & cleared out. This room is quiet now.
Delia's gone. She meant well, but she wasn't of much account & was a troublebreeder with the other servants, so Miss Lyon discharged her. Maggie is back, & now it's a model household. I think you knew Maggie. In about a week Catherine will be back from Ireland—she's a bird!
It is milking-time, now. I mean I am taking my noonday glass of milk. Several drops have gone down the wrong way. Try-it—it is ever so much fun.
I miss you, dear—I miss you a lot. If I had you here we would start the Author's League again.
And now Miss Lyon has come up to say some ladies are calling & I must go down & see them. You remember Miss Lyon? You remember how she looks?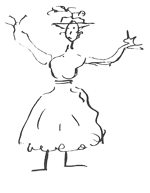 The way she looks.
 Good-bye, I love you very much [MTP].
Sam also wrote to H.H. Rogers, giving his "official report" of the trip to Jamestown. He praised Harry and Mary Rogers for taking care of him during the trip, seeing him ashore "on that stormy 23d." He thought Robert Fulton Day was "the completest & perfectest fiasco in history, & worth going a thousand miles to see." He wanted to "run up to Fairhaven soon, for a day or two, if I can be of any use to you" [MTHHR 638-9].
Sam also wrote to Frances A. Nunnally: "I hope note I left at Waldorf Wednesday will persuade you both to come to Tuxedo Saturday till Monday please name your train can meet you at station" [MTP].
Frances Nunnally replied to Sam from the Waldorf-Astoria Hotel, N.Y.C.
I received your note yesterday and was so sorry that we missed you, for I should like so much to have seen you.
      It is lovely of you to give Mama and I that kind invitation and we appreciate it ever so much. We shall be delighted to accept it, and as you suggested we shall come to Tuxedo on Saturday by train which leaves the New York side at 12:40 p.m. I hope you enjoyed your trip to Jamestown and I am glad you did not stay down there too long, so that we can have the pleasure of seeing you before we leave for Baltimore.
      Thank you again for the invitiation… [MTAq 67].
Isabel Lyon's journal: It has been a long and busy day with letters and telephonings as usual. Last night the King didn't sleep very well, and I think it was because he went to bed early—too early—so after a good rest and his morning's dictation (it's about the Jamestown trip, now) he went down stairs early, and then we had a lot of music, with chat thrown in. Dinner came in too, and so we didn't go up stairs until 10:30. I was pretty nearly exhausted [MTP TS 107]. Note: diagonal strike through lines appear on the TS for this entry.
N.L. Guy for U.S. Naval Constructor's Office, Norfolk, Va. wrote to Sam c/o H.H. Rogers. Could Sam come to Norfolk and lecture for the benefit of the "United Charities"? [MTP].
Roi Cooper Megrue for Elisabeth Marbury wrote to Lyon to ask about McAllister's claims of having rights to a play from Twain [MTP].
George F. Walker wrote from Naugatuck, Conn. to offer Sam praise and congratulations without asking for anything [MTP]. Note: Lyon wrote on the letter, "Well, I suppose you can thank him for it"
Clemens A.D. for this day is listed by MTP.  
Link to Epoch, Episode and Chapter